STUDENTS ACHIEVEMENTS (2023-24)

Nov6th and 7th, 2023
Won Gold in Under 19 Badminton Tournament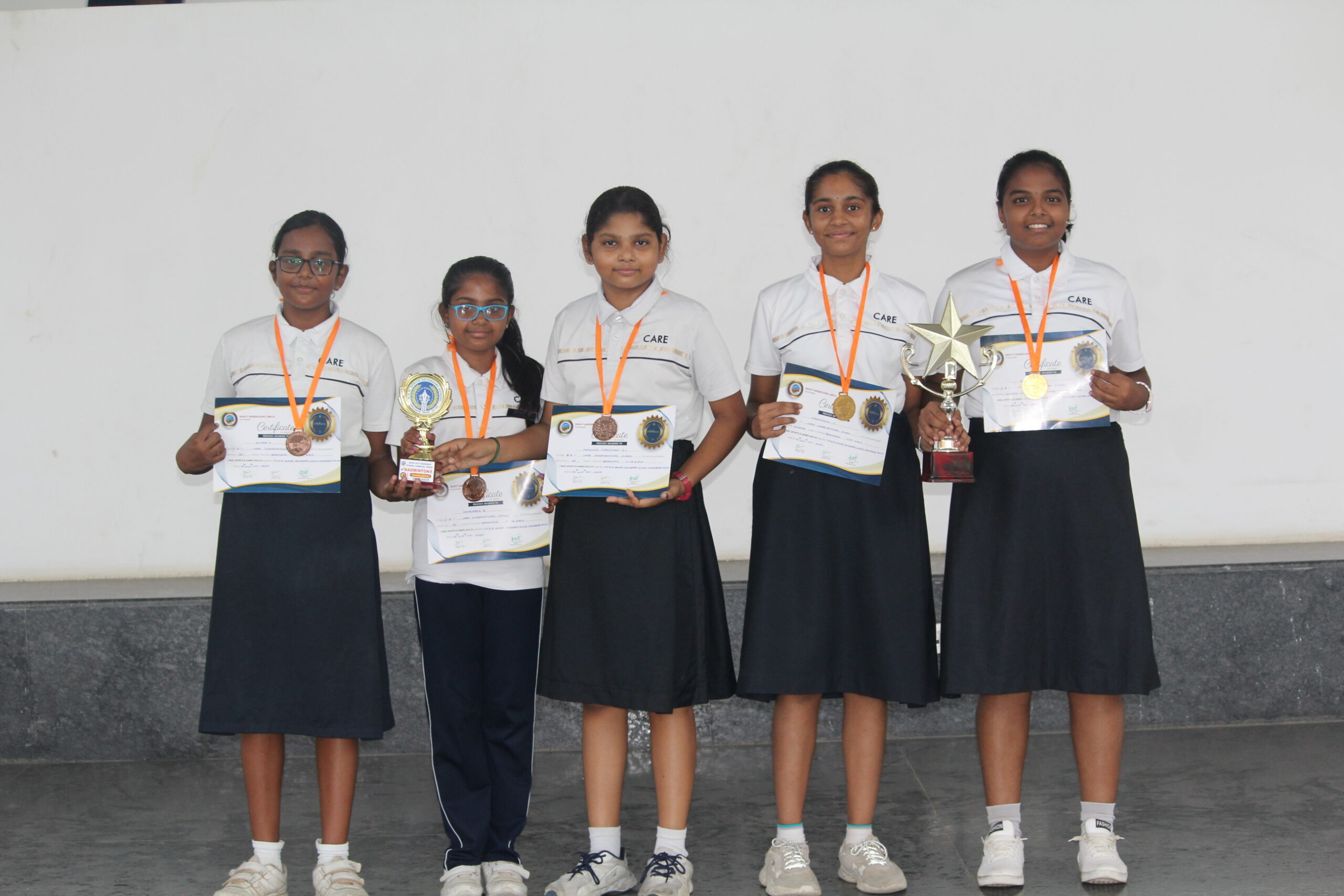 Our girls' badminton team aced the game at the RSSC Badminton Tournament in MAM Sr. Sec. School on Nov 6th & 7th! 
 Tarunya (Grade X) and Arathana (Class IX) soared to victory, clinching the top spot in the Under 19 category 
. While, Oviya (VII), Hanshal (VI), and Tejashree (V), secured third position in the Under 12 category. 
#BadmintonChamps #RSSCTournament #GirlsInSports #CARESportsStars
October 27th, 2023
Won Silver and Bronze Medal in Skating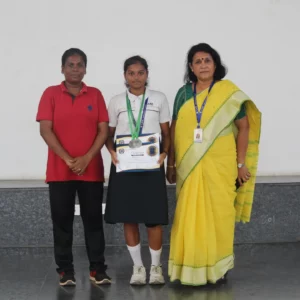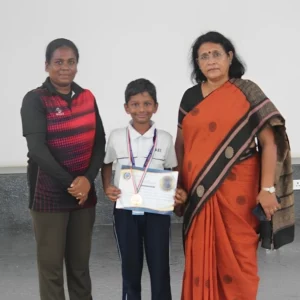 A Glorious Triumph at the RSSC Skating Tournament! Our students rocked the rink at Cauvery International School on 27th Oct. Massive cheers to Sahana Sri of Grade IX for securing the Silver Medal in Quads Rink III & Rink II categories and our very own Nivin Krishna from Grade IV for grabbing the Bronze Medal in Inline Rink 5 category! 

October 19th, 2023 
Under 19 Girls Volley Ball – 2nd Runner-up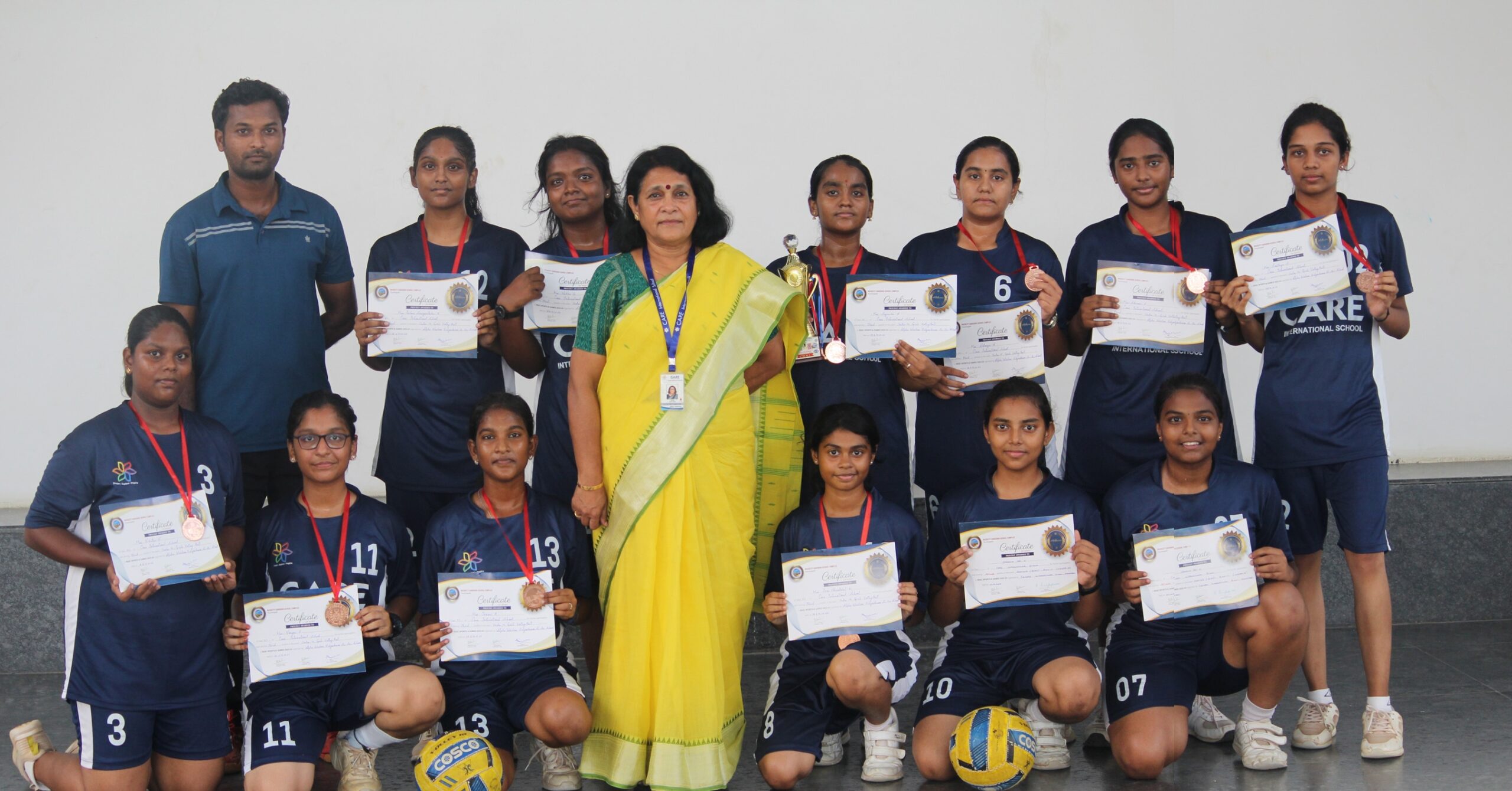 Our fierce Under 19 girls' team made us proud at the RSSC Volleyball Tournament held on Oct 19th, clinching the 2nd Runner-up title! Massive shout out to our dedicated girls for their relentless effort and sportsmanship!

October 5th, 2023
Under 19 Girls Baskestball – Runner- up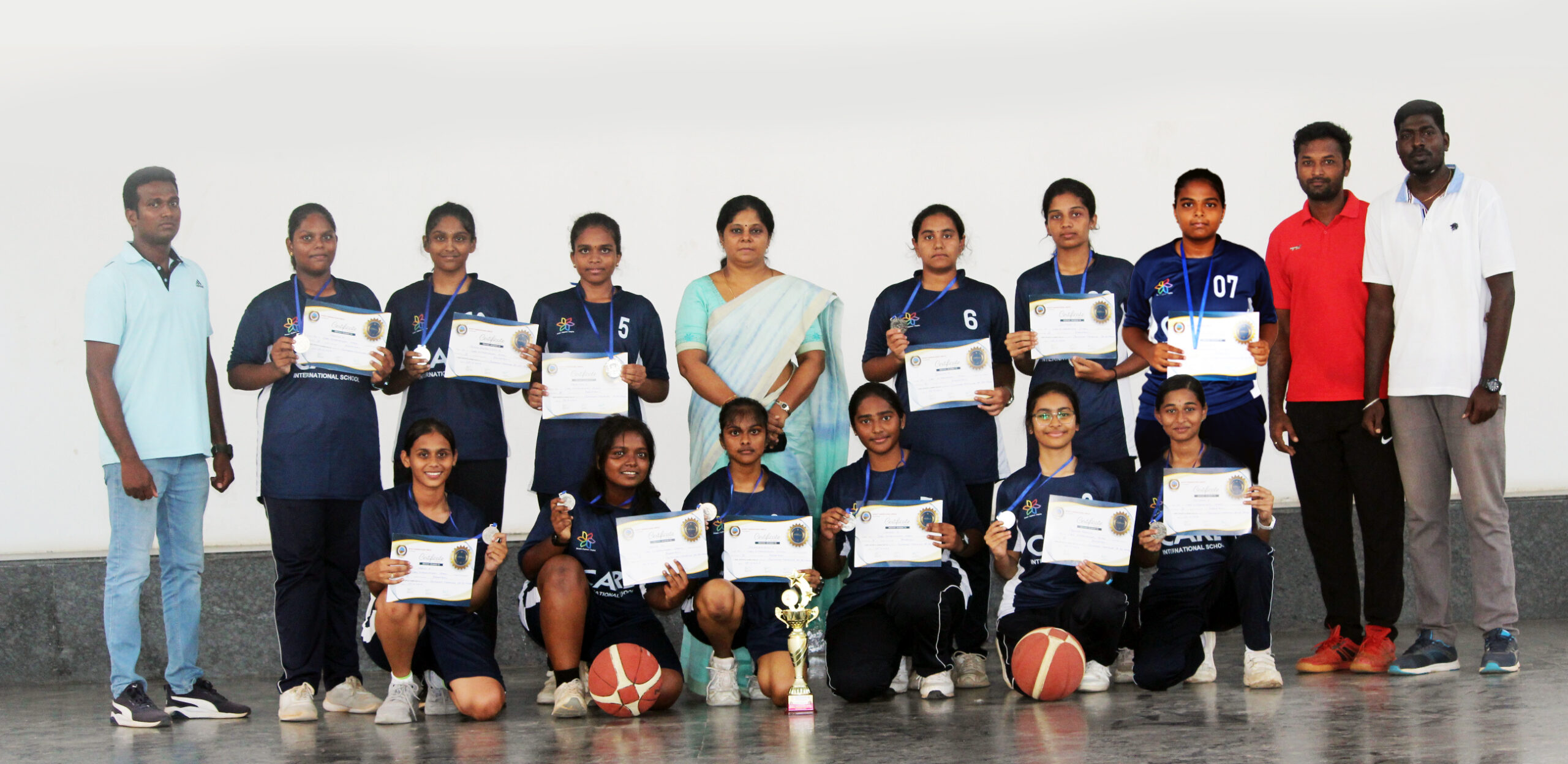 Our Girls U19 Basketball team gave it their all at the Rockcity Sahodaya Basketball Tournament on Oct 5th and came home with the Runner-Up Trophy! Kudos to these amazing girls for their hard work and dedication!

September 16th, 2023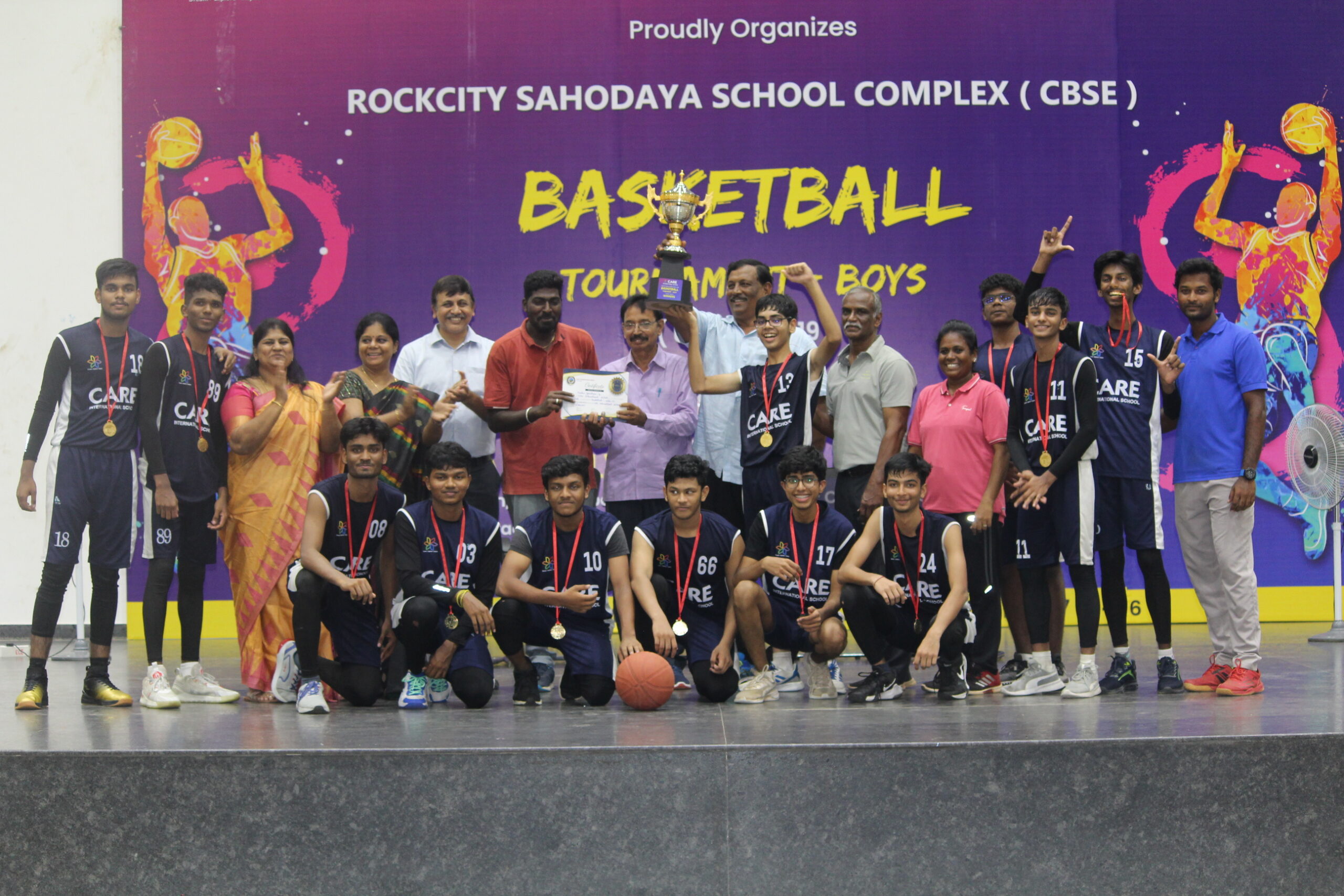 CARE International School hosted the RSSC's Basketball Tournament for Under 12 and Under 19 category at our Basketball stadium. CARE's team won the Under 19 Championship trophy . To check out more photos follow us at https://www.instagram.com/careinternationalschool/ 
 September 2nd, 2023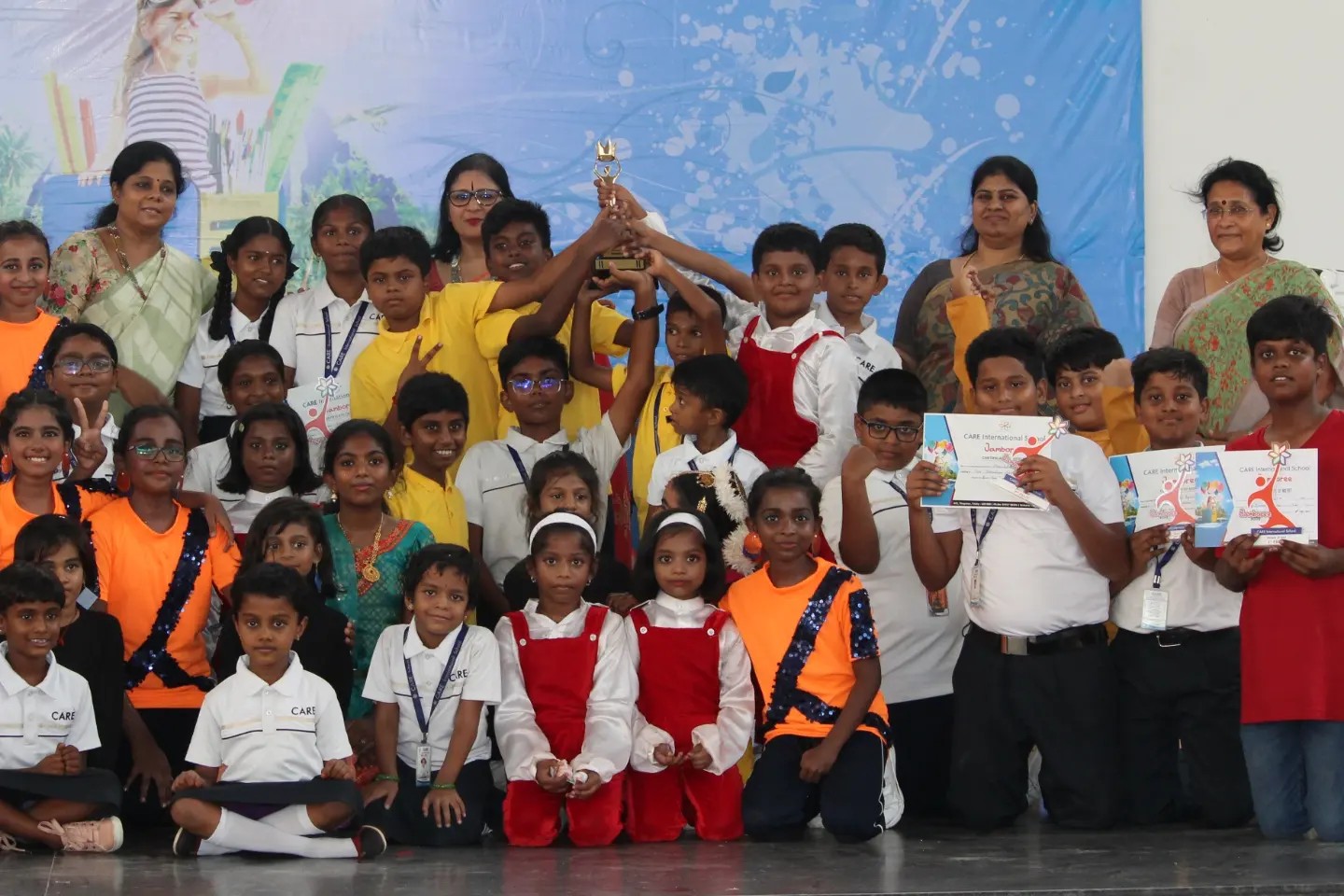 Jamboree 2023: An interschool competition for KG-VIII organized by CARE International School on September 2nd, 2023. Close to 800 students from different CBSE school participated in the event.
CARE International School won the overall trophy
September 2nd, 2023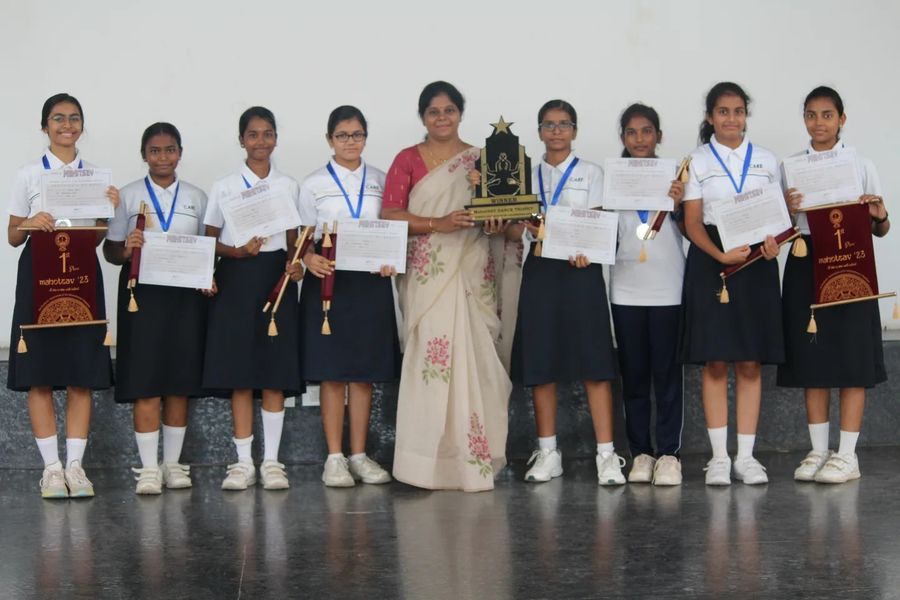 Our talented students lit up Mahotsav, the cultural extravaganza hosted by Sri Akilandeswari Vidyalaya on September 2nd! 
 1st Position in Group Dance by our dynamic team of 8 girls from Grades X & XII!
 PV Iniyaa of Grade X wowed the crowd with her 3rd Prize-winning Solo Dance!
 4 students aced the Treasure Hunt, clinching the 3rd position!
 The dramatics team from Grade X gave a stellar performance, securing 2nd place!
 Our musicians brought home the 3rd Prize in Orchestra!
And to top it all off, our school dance team clinched the MAHOTSAV DANCE TROPHY for this year! 
Kudos to our brilliant children for their outstanding performances! 
September 2nd, 2023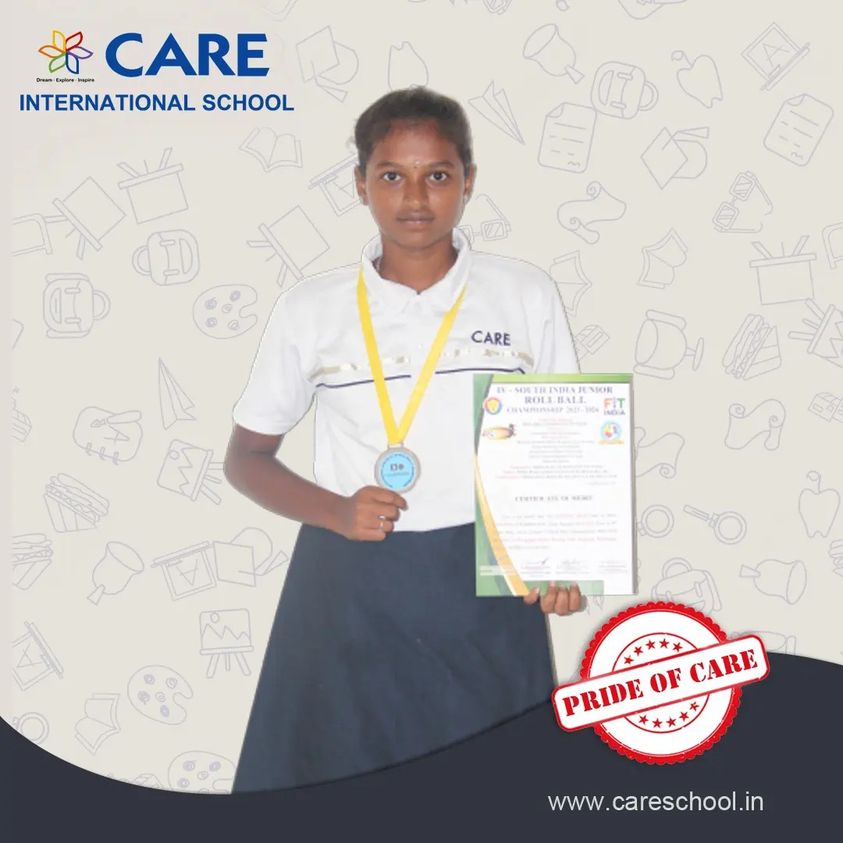 Sahana Sri, our rising star from Grade IX, rolled her way to success at the 4th South India Junior Roll Ball Championship in Karnataka on September 2nd & 3rd, securing a fantastic 2nd position!
August 29th, 2023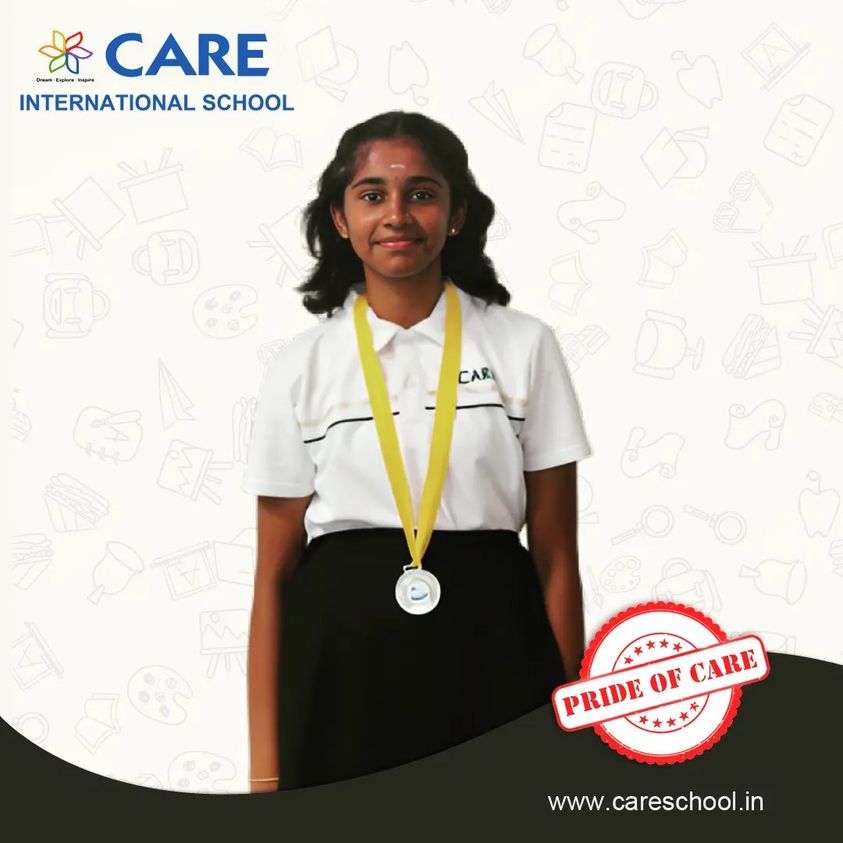 Congratulations to Aradhana of Grade IX for winning the Best Player award in the Rockcity Sahodaya Kho Kho Tournament, Under 15 category, held at Blossom Bluebells Academy, Tanjore on August 29th!
August 29th, 2023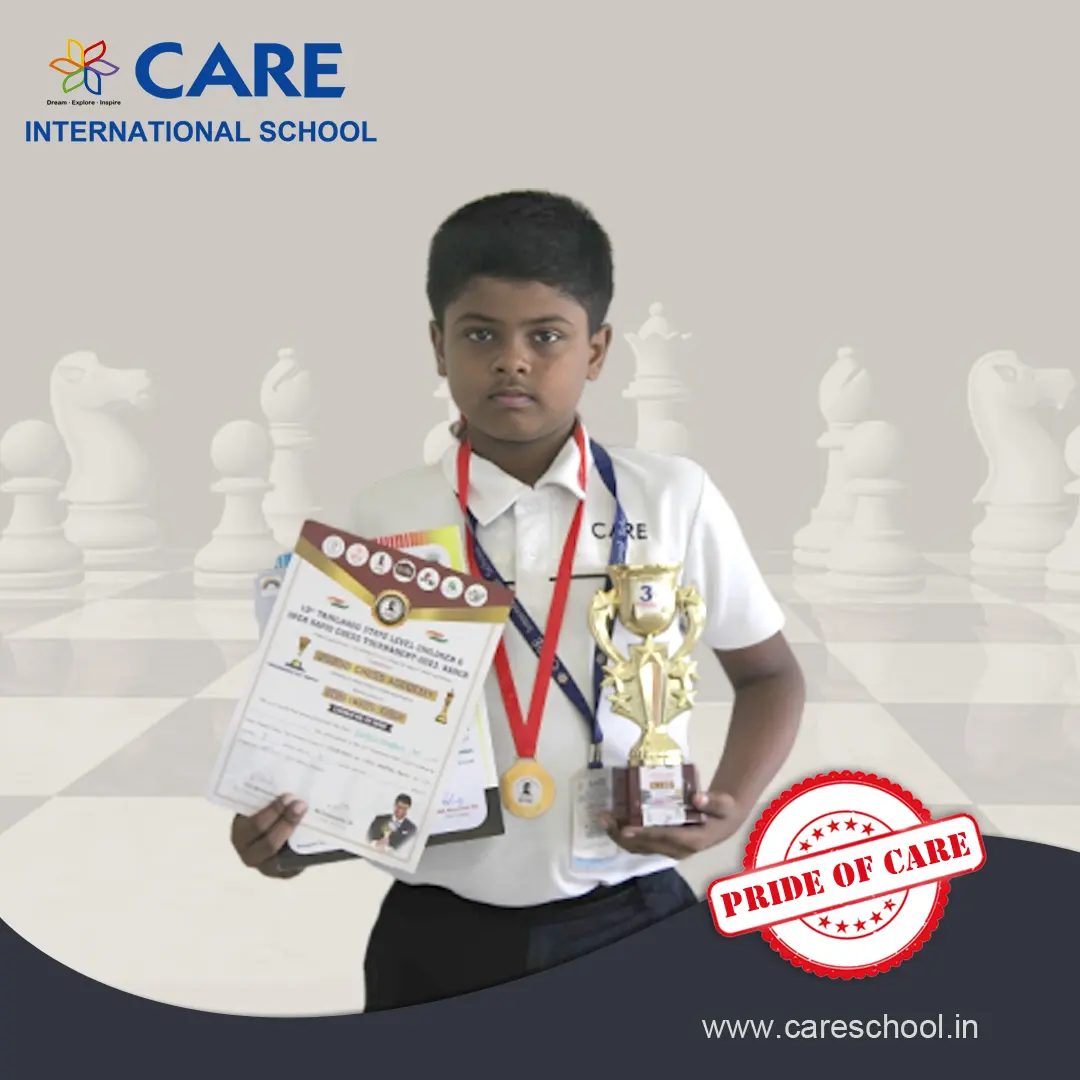 Gurcharan of Grade 5 clinched the 3rd position in the fiercely competitive 10th Tamilnadu State Level Open Rapid Chess Tournament in Karur!
Hats off to your incredible chess skills, Gurcharan.
August 13th, 2023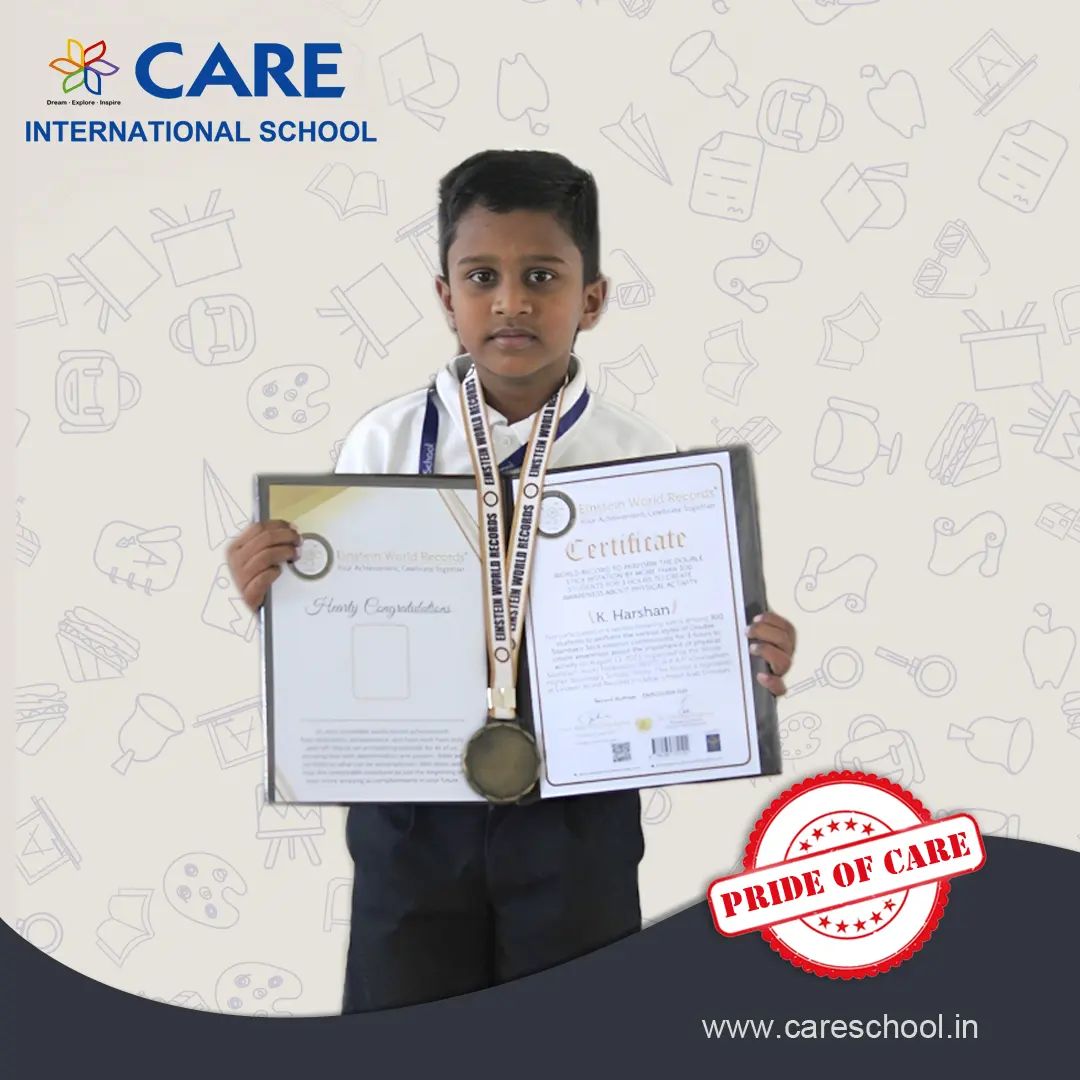 Breaking Records and Setting New Standards! #WorldRecordAlert
Introducing K. Harshan, the rising star from Class 4B!
His awe-inspiring Silambam performance has officially etched its name in the chronicles of the Einstein World Records in Dubai, United Arab Emirates.
On August 13, 2023, Harshan achieved at a record-breaking event hosted by the World Silambam Youth Federation in Trichy. Amidst a talented pool of 300 students, Harshan left spectators in awe with his relentless display of Double Silambam Stick rotation for a whopping 3 hours!
His unwavering dedication not only broke records but also stands as a powerful testament to the significance of physical activity.
August 5th, 2023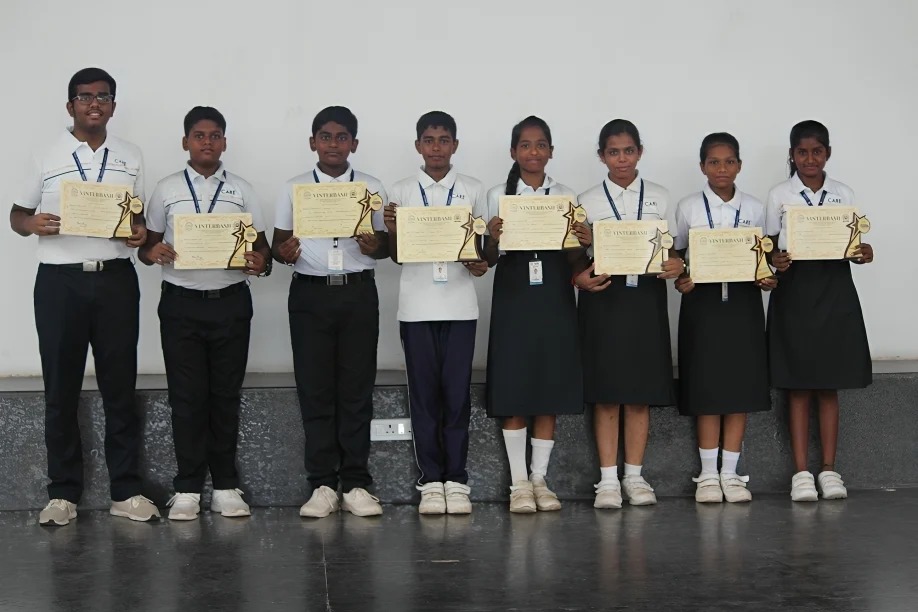 Our incredibly talented young filmmakers Devesh, Kishaan, Smrithi, Saroniksha, Sutharsini, Dhanushree, Stewart Santo of Grade VIII, and Sangameshwar of Grade X shone bright at VinterBash's cultural event in the short film category, and we're thrilled to announce that they secured the SECOND POSITION! 
July 28-30, 2023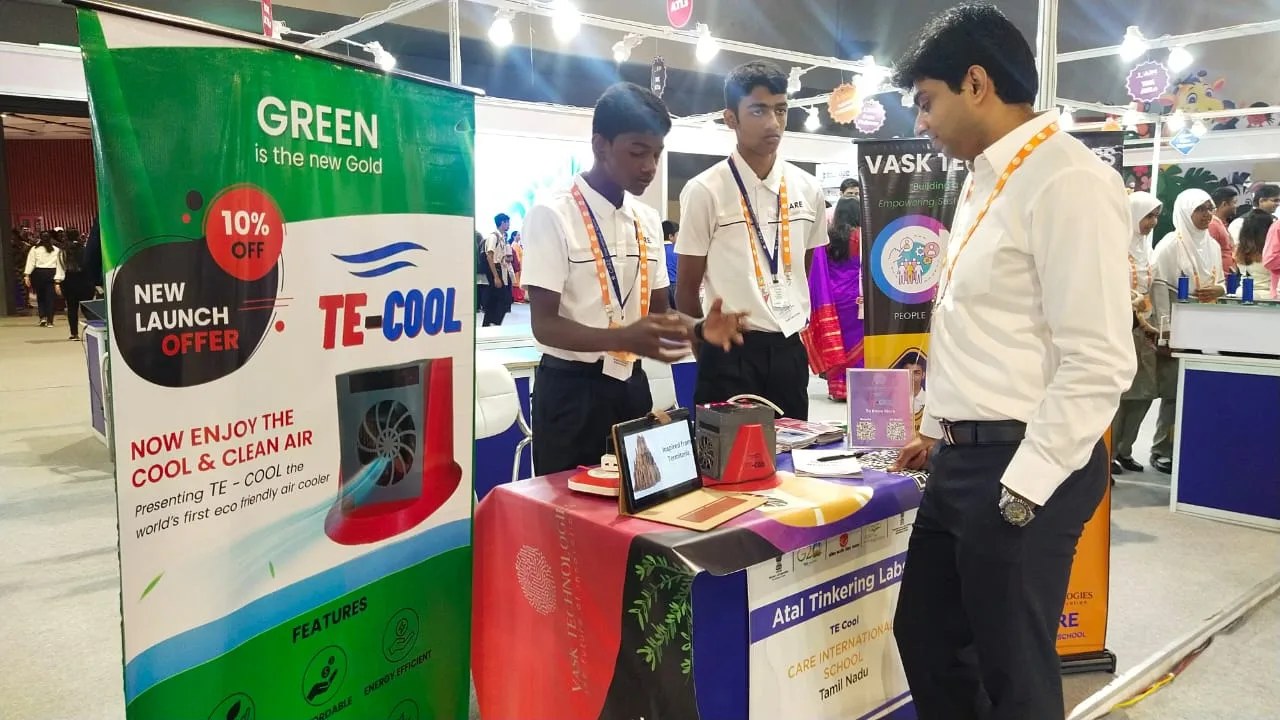 Out of numerous participants from across the country, our team emerged as one of the top 12 finalists, earning the distinguished title of "BEST ATL SCHOOL" in the South zone. This honour brought further recognition to the school, as our team got an invitation to participate in the grand celebration of the 3rd Anniversary of the National Education Policy (NEP) 2020 and the 2nd edition of the Akhil Bhartiya Shiksha Samagam at Pragati Maidan, New Delhi from July 29th to July 30th, 2023, organized by The Ministry of Education, Govt. of India. Students had the privilege of meeting the Honourable Prime Minister of India, in an exclusive event held at Delhi.

Among the esteemed participants, CARE International School emerged as the only representative proudly hailing from Tamil Nadu. The school's students, Sharveshan.H from class IX and Sam V Mathew from class X, garnered widespread attention and admiration with their ingenious product – "TE COOL", an eco-friendly and affordable air cooler that caught the eye of numerous dignitaries and the public.
July 28- 30, 2023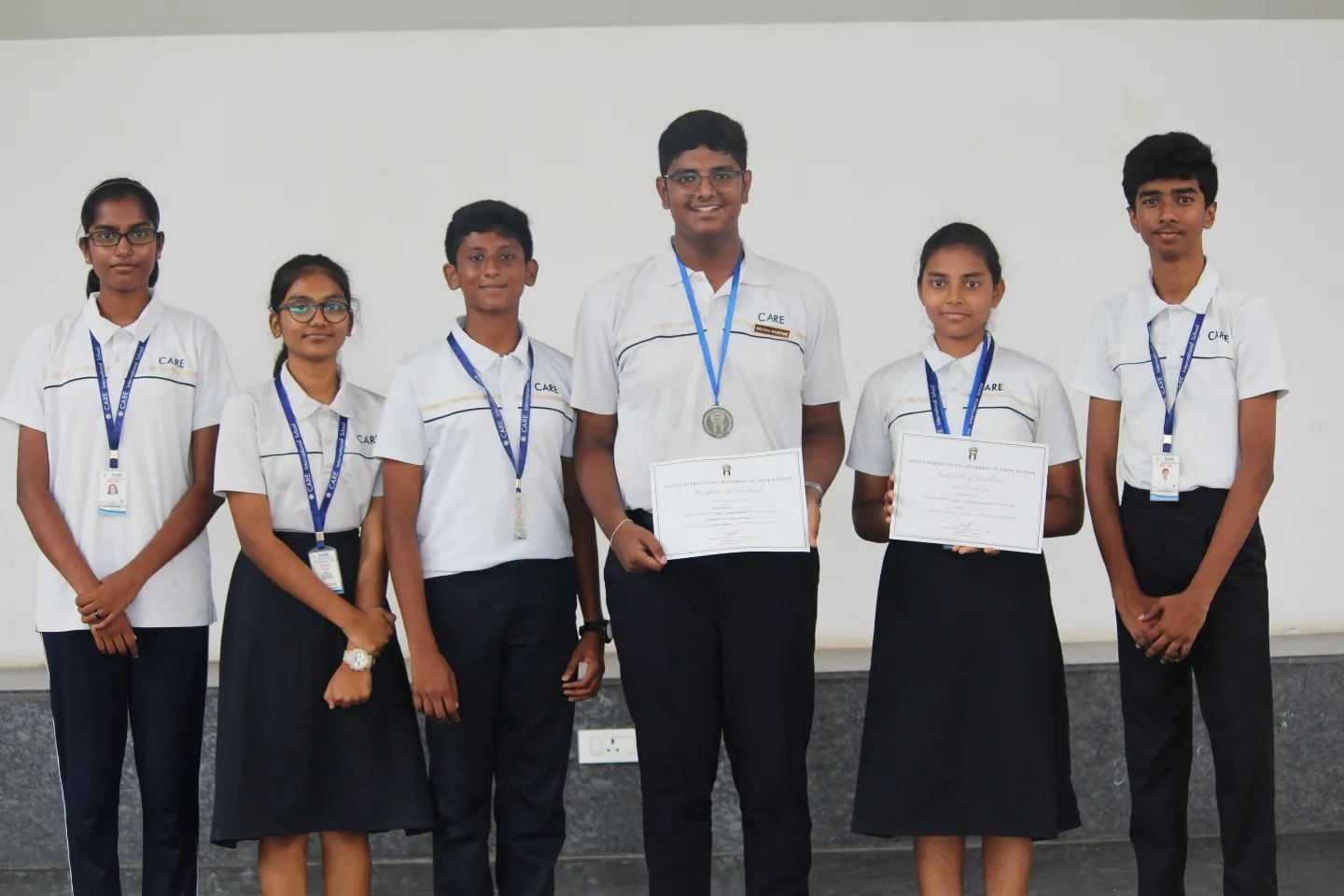 Celebrating Success at the STATE MUN Conference organized by IIMUN conducted in Chennai on July 28–30, 2023!
Our students showcased exceptional talent and secured remarkable positions out of 30 participating schools.
Kudos to: Iniyaa of X A – High Commendation in UNEP Committee
Riswanth of XII C – High Commendation from Sri Lankan Committee
A special mention to our Verbal Mention awardees:
Nithila – VIII B – TNLA Committee
Sathvika Varsha – X B – Historical Crisis Committee
JayaSakthi – XA – UNODC Committee 
Kishore Adhitya – XI A – Sri Lankan Union Cabinet 
Your dedication and hard work shine through!  
24.07.2023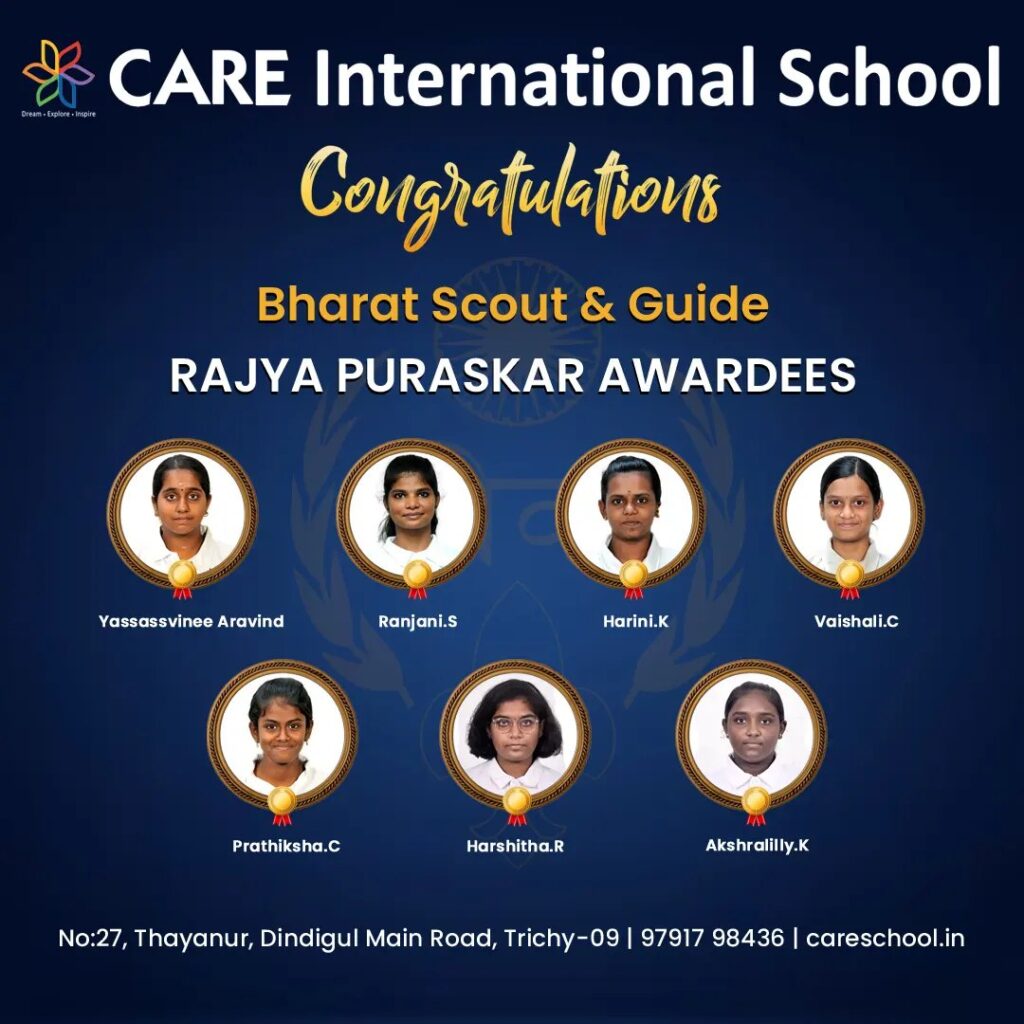 Our students have earned the prestigious "Rajya Puraskar Award" – 2019.
14.07.2023
Master. Hemanth Krishna of grade IV got Silver medal in the International Math Olympiad organized by SOF. He secured Rank II Internationally and 1st Position in Zonal Level
13.07.2023
Master P. Joshua Jebakumar from class VII A, who authored the captivating book titled "2297-A Space voyage". Joshua's exceptional literary skills have been recognized by the Trichy District Library as he has been honoured with a "Special award" for this book. The Special award was presented to Joshua by the Hon'ble Minister of School Education of TN, Mr. Anbil Mahesh Poyyamozhi.
26.06.2023
Magizhan K.V of class III B bagged rank 3 in the NATIONAL LEVEL KIDEX ALL ROUNDER CHAMPIONSHIP Conducted by KIDEX.
25.6.2023
S.R. Ganesh of Class 11 A took part in the SHASTICON –FIT LIFE 2023 National conference on Health and Life style held at Trichy and bagged Bronze Medal in Under 17 Doubles – Badminton.
25.6.202
Aarathana of Class IX A took part in the District Level KIDS badminton Tournament held at T.V.Kovil,Trichy and bagged Runner in Singles – Badminton.
25.6.2023
S.Tarunya of Class IX A took part in the District Level KIDS badminton Tournament held at T.V.Kovil, Trichy and bagged Gold medal in Doubles – Badminton.
24.06.2023
"Made in 3D: Seed the Entrepreneur 2022-23" competition was conducted in Pune on June 24, 2023. The members of our school team Sam V Mathew (X), Varshith (X), Sharveshan (IX), Srikrishna (X), Krishovine (X), Amish Mohan (IX) and Mentor Ms. Naslun Cithara participated in the event. Our team is one among the 12 finalists from all over India and our school was honoured as the BEST ATL SCHOOL.
29.04.2023
JOSHUA JEBAKUMAR of Class VII A participated in the Quiz competition conducted by VJ eventz, Trichy and he secured the second prize in the competition.